products/ANT-8101110.jpg
Anita's
Anitas Outline Stickers, Special Birthday Wishes, Gold, For Scrapbooking, Card Making, Kids Play, Homework, Art, Craft, Embelish, Decorative, Paper, Card, Glass, Metal, Plastic, Foam
Gold and silver outline stickers. So many to choose!
USE these stickers are great for all your paper crafts and projects. You can embellish and enhance your makes with these beautifully designed stickers. Stickers are a clean and simple way to add character and fun to your makes. Build a creation around the stickers or add them in to designs you've already made
IDEAL great for creative card making, invitations, letter writing, posters, journaling, embellishing notebooks and diaries and more. Create truly beautiful makes with these gorgeous outline stickers
SELF ADHESIVE they are easy to use. Simply peel off of the backing paper and press down onto your desired area
EMBELLISHMENT Stickers are the easy and neat way to add something special to your craft makes. Anita's comprehensive range of stickers covers every art and craft requirement. From foiled or glitter sentiments to alphas and numbers, animals and more!
OCCASIONAL these effective embossed designs will add charm and detail to your makes. They are great to use for all kinds of occasions and events. You will find plenty of stickers for all your crafting requirements
Height: 27.3 cm
Width: 10.9 cm
Length: 0.1 cm
Country of Origin: Taiwan
Tariff Code: 4911990000
Condition: New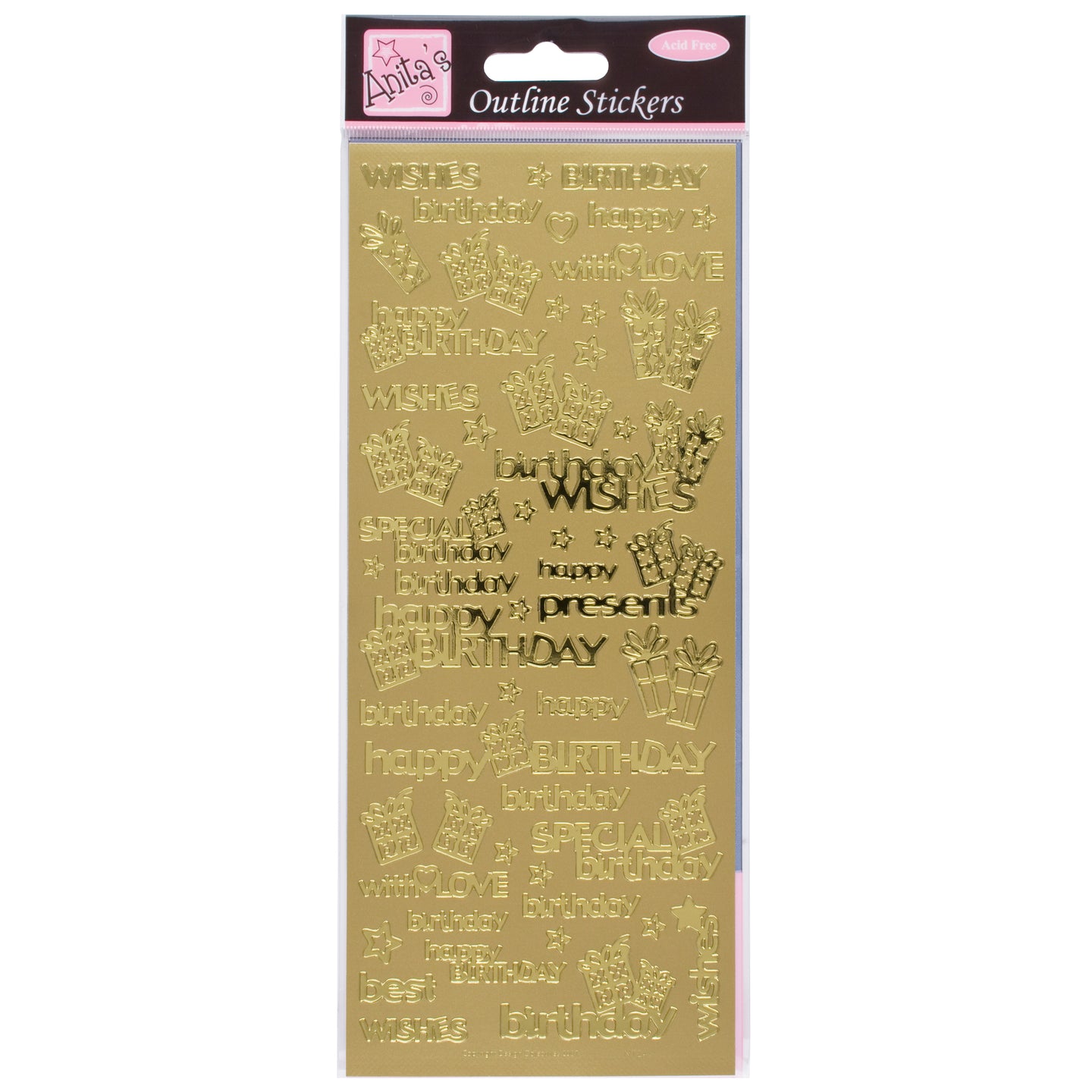 Product Description
Gold and silver outline stickers. So many to choose!
Similar Products
Free Shipping

Free shipping on all UK orders over £30

Same Day Shipping

Order before 10am Mon-Fri for same day shipping

Weekly Discounts

Watch out for our monthly discounts and offers

Contact Us

We're here to help! Contact us with ease